While most of the group headed out to visit Dachau, the site of a concentration camp during WWII, my family (Norman, Jane, Terri) and I set off to experience Munich. My parents and I had visited the Auschwitz-Birkenau camp outside of Krakow, Poland while I was studying there as a college student, so we felt we'd had the experience already.
So my apologies for is next post...it really is all about me (or at least us) and probably is of little interest to those of you tuning in to stay tuned to what your loved ones are up to. I'll be back to regular post in Day 6, I promise.
Once we left the main square, we found the large outdoor market with meat shops, vegetable stands, bakeries, restaurants and more!
It even had a May Pole...
I really loved the flower booths...
Aren't these cute?
Then we found this place, have you heard of it?
If you haven't, then you are missing out!
The Hofbrauhaus is a bier garden - beer garden. This one is world famous.
It has a band playing traditional tunes...
It has an English menu - thank goodness...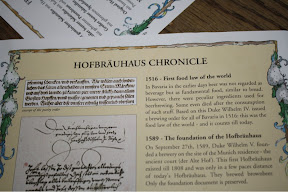 But most of all it has bier - BEER - German beer and pretzels (to soak up the beer).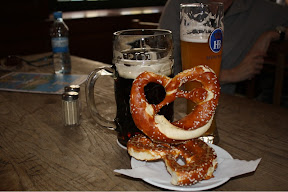 Dad got the dark beer and mom and I got the Weiss (wheat) beer. Yum.
Terri tries the dark...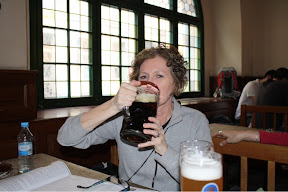 It takes two hands...
Guess who finished hers first...me!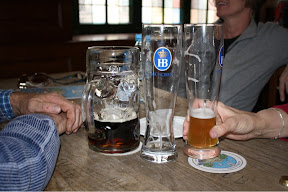 Poor Mom, she just couldn't go on...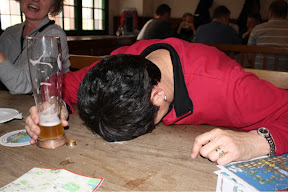 Just kidding! Here they are AFTER our visit...
It was a great afternoon and we finished the day with a very traditional German meal complete with sausages and sauerkrat.
On the walk back we found this store...how perfect for this couple...
Off to Innsbruck today with a couple of stops on the way today (Wednesday), stay tuned.
- Posted using BlogPress from my iPad